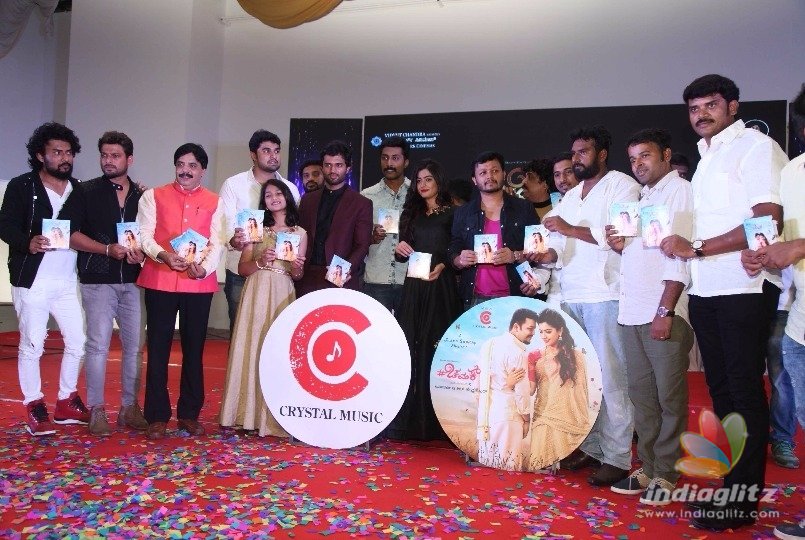 Golden star Ganesh and Rashmika Mandanna first combination in Crystal Park creations Chandrasekhar as producer and Simpe Suni as director 'Chamak' audio release was held in a huge convention center EBISU at Tani Sandra on the outskirts of Bengaluru city on Monday night.
Karnataka state Padmasri Sukri Bomma Gowda and Telugu film 'Arjun Reddy' fame Vijay Devarakonda were special guests at the audio release of 'Chamak' audio.
Sukri Bomma Gowda blessed the team and affectionate photo session was taken with legendary singer by Ganesh, Rashmika, Meghana Gaonkar at the place where she was sitting. Meghana Gaonkar and Rashmika Mandanna made very affectionate chat with the leading lady.
Music composer Juda Sandy man of the evening introduced all his singersAbhinandan, Supriya Lohith, Shreya, Chetana and musician Narayan on this occasion.
Karnatakada Crush from this 'Chamak' film Rashmika Mandanna of first half heroine of 'Kirik Party' expressed her happiness for being part of this film. She has a house wife role, composed character and it is opposite to Ganesh character in the film.
Ganesh in his address congratulated Juda Sandy music director for his lovely scorings. Are Are….is my favorite he mentioned and the song was sung by the singers. The teaser is doing lot of talk. It is entertainment comedy. I have done 'Chamak' in the beginning of my 'Comedy Times' in near thousand episodes.
Source : Indiaglitz